Donate Gently Used Coats for those in Need

Donate Gently Used Winter Coats for Charity at our Store
Adults & Children Sizes Needed
Families often come to shelters seeking coats, hats, and gloves. Purchasing all of these items for each child can place a significant burden on families that are just getting by financially.
If you'd like to donate clothing, thick socks, boots, coats, scarves and hats are some of the most sought-after items.
Gently used, cleaned items welcome! Drop off in-store during business hours.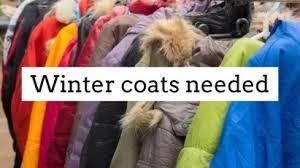 ---